TwonkyMedia Digital Home Forum has a nice (periodically updated) round-up of the Best Practices for planning local network for streaming digital media around your home. Check it out at Connected Home/DLNA Best Practices (Updated July 2009).
Rechargeable Remote Features One-Click Control, Color Screen
FREMONT, Calif. — Sept. 3, 2009 — You and your family love to be entertained – enjoying TV, movies, games and music – in the comfort of your living room. But getting to your entertainment can be difficult, often requiring that you use several remotes just to get to your favorite TV show. The Logitech Harmony® 700 remote, the newest universal remote from Logitech (SIX: LOGN) (NASDAQ: LOGI), can help simplify your home entertainment by replacing up to six remotes. The Harmony 700 remote features a color screen, rechargeable batteries and one-click control of your favorite activities.
"Millions of families around the world are investing in better home-entertainment systems, complete with flat-screen TVs and other devices; however, each new device adds another remote to the coffee table and another level of complexity to what should be an enjoyable experience," said Ashish Arora, vice president and general manager of Logitech's Harmony business unit. "If you have a half-dozen components and an AV receiver, the new Logitech Harmony 700 is the smartest way to get the most out of that setup." (continue reading this article and leave comments here…)
For a while now it's been possible to share your music, pictures, video and even live TV between different types of consumer devices. For example, you could stream MP3 files from your computer to your cell phone using a software package called Orb. Or you could watch your TV from the other side of the world using a slick little device called the SlingBox
. The problem is that many of those devices were using proprietary technologies and required user to be a bit of a nerd to understand how to set-up and configure the system to work properly. You had to set-up codecs, firewalls and other things that most 'normal' people have no idea of.
But soon-to-be-released Windows 7 and a variety of new-generation devices are going to change all that and take it to a whole new level in regards to inter-connectivity and cross compatibility.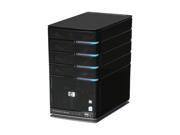 If you've been waiting for a good deal to get yourself a Windows Home Server – here it is!
Newegg.com has HP MediaSmart EX485, Windows Home Server w/ Intel Celeron 2.0 Ghz 2GB DDR2 750GB HDD for only $474.99 with promo code EMCLVMV33.
You also get Free and, as usual, Very Fast Shipping from Newegg.com! Now, isn't this a great deal?
This coupon is a week-end only deal and will expire in 3 days, so hurry up.
This is the best deal I've seen on this model so far. Just for the record, original system's MSRP is $599.
I got mine a few month ago for $499, and it already managed to save us from losing tons of data, when my wife's 2 year old Gateway laptop suddenly and permanently died. We were able to safely transfer thousands of her emails, documents, photos, etc. from Gateway's back-up on HP MediaSmart to her new MacBook Pro without much of a hustle. Now HP MediaSmart also serves as a storage for MacBook's Time Machine.
We also use Windows Home Server to feed our TV with stored DVD movies, and to stream music to our iPhones.
Overall, EX485 is a great system and is a must have for households with multiple computers. Both PCs and Macs are supported.
HP MediaSmart will keep your data safe and organized. It is very easy to use. Give it a try today, and don't forget to use the promotion code at check-out.
Cambridge SoundWorks, a premiere manufacturer of award-winning speakers, home theater systems and high performance table radios running a 25% discount till July 27nd, 2009.
To redeem this offer use coupon code: JULY25 at check out.
Cambridge SoundWorks carries selection of quality In-Wall/In-Ceiling, Outdoor and Bookshelf speakers.
Additionally, save $50 on MovieWorks HD iPod dock with ANY Home Theater System purchase (use coupon code: MovieWorks50).
You will get Free UPS shipping on orders $75 and up and 30 day risk-free in-home trial (* less shipping charges).
Most of Windows Media Center features are easily accessible with IR or RF remote controls and unless you need to type something remote is the only control device you'll need to enjoy your media.
But typing on the remote control resembles chatting on a cell phone without a dedicated keyboard. It requires multiple key presses to enter almost every character. And if you need to enter non-latin characters it becomes even more dubious.
When it comes to typing, you are better off with a wireless keyboard such as Logitech's diNovo (Edge or Mini) or Microsoft's Wireless Entertainment Desktop 7000. Those are great keyboards, and they include some kind of a pointing device (such as trackpad or navigation pad) along with media controls (play/pause/fwd/rew/stop).
Though there are a number of points that you should consider before investing in specialized media keyboards:
they will run you $100+ in most cases;
they are not compact (maybe with exception of diNovo Mini) and you cannot operate them with one hand like a remote control;
you'll have to always have them by your side and that's not very convenient considering  their size especially if you are not sitting in front of the desk;
having to switch from remote control to keyboard and back will not improve your experience;
you are bound to only one (or in best case – two) language layout(s) on the keys;
So what are our options? 
Microsoft has just announced pricing for its next version of operating system – Windows 7.
The Windows 7 Home Premium and Ultimate editions feature the best Media Center experience you can get, with built-in support for TV recording, Internet video, Netflix and a wealth of plug-ins from third-party developers.
The estimated retail prices for upgrading your existing XP or Vista system to Windows 7 in the U.S. will be as follows:
Windows 7 Home Premium (Upgrade): $119.99
Windows 7 Professional (Upgrade): $199.99
Windows 7 Ultimate (Upgrade): $219.99
The full retail versions of Windows 7 will sell in the U.S. for:
Windows 7 Home Premium (Full): $199.99
Windows 7 Professional (Full): $299.99
Windows 7 Ultimate (Full): $319.99
That's a bit cheaper than similar packages of Windows Vista.  
But here's the good news…
Only from now till July 11, 2009 you can pre-order the greatest MS operating system ever with up to 58% savings! Wow! Don't miss this chance!
If you have several systems to upgrade (and most of us do) your savings will multiply! Order direct from Microsoft Store below…
Retrofit-friendly multi-room audio will be truly possible very, very soon. This year, NuVo will ship a multi-room audio system that runs over the electrical wiring already in every home. This system, called Renovia, will be based on the HomePlug 1.0 standard for power line communications (PLC). This standard and this technology are tested and proven, says David Rodarte, President and Chief Operating Officer of NuVo Technologies LLC in an interview to HomeToys.
Read the complete article in the latest issue of eMagazine at HomeToys.com
Via AVSForum.
YouTube has released a Flash-based video player called YouTube XL "optimized for watching YouTube videos on any large screen".
In addition to an all new design offering large text and simplified navigation, YouTube XL offers a continuous play feature, which lets you search for a topic on YouTube and then press "play" once to watch all of the videos sequentially on that topic. Also, getting from one video to the next takes just a few clicks, and you can control the action with a blue tooth enabled remote control, or even some mobile phones.
In my iTunes I have a smart playlist called "Never Played Songs". I usually sync this playlist with iPhone to listen "on the go" or while in the car. At times it (pleasantly or not) surprises me with the kinds of music I have in my collection. And while at home I tend to listen mainly to my favorite albums or Internet radio stations, it's nice to be able to discover new artists and new music styles on occasion.