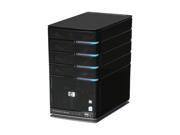 If you've been waiting for a good deal to get yourself a Windows Home Server – here it is!
Newegg.com has HP MediaSmart EX485, Windows Home Server w/ Intel Celeron 2.0 Ghz 2GB DDR2 750GB HDD for only $474.99 with promo code EMCLVMV33.
You also get Free and, as usual, Very Fast Shipping from Newegg.com! Now, isn't this a great deal?
This coupon is a week-end only deal and will expire in 3 days, so hurry up.
This is the best deal I've seen on this model so far. Just for the record, original system's MSRP is $599.
I got mine a few month ago for $499, and it already managed to save us from losing tons of data, when my wife's 2 year old Gateway laptop suddenly and permanently died. We were able to safely transfer thousands of her emails, documents, photos, etc. from Gateway's back-up on HP MediaSmart to her new MacBook Pro without much of a hustle. Now HP MediaSmart also serves as a storage for MacBook's Time Machine.
We also use Windows Home Server to feed our TV with stored DVD movies, and to stream music to our iPhones.
Overall, EX485 is a great system and is a must have for households with multiple computers. Both PCs and Macs are supported.
HP MediaSmart will keep your data safe and organized. It is very easy to use. Give it a try today, and don't forget to use the promotion code at check-out.
Related Articles: